[]
Not all are thrilled by the gesture, some questioning its safety and legality. 
Dec. 20, 2022Updated: Dec. 20, 2022 5:05 p.m.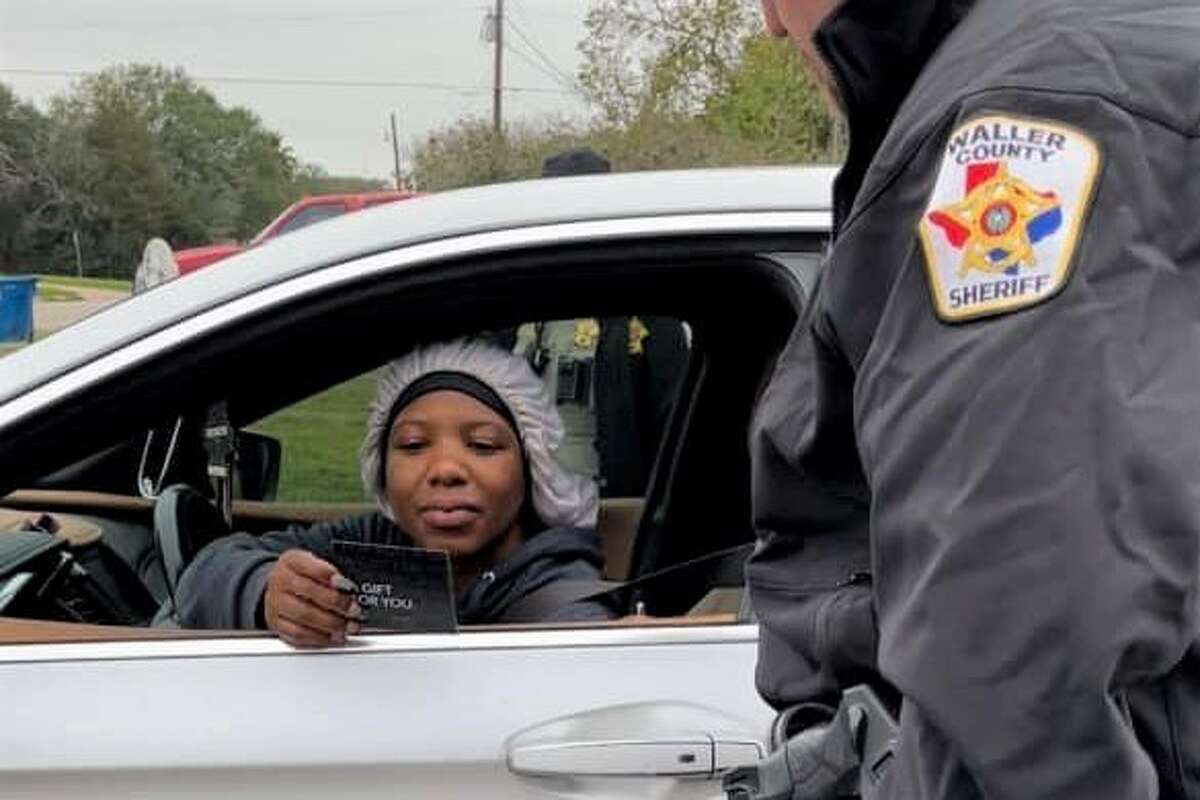 The Waller County Sheriff's Office announced sheriff's deputies will be handing out gift cards during traffic stops until Christmas. 
Facebook/Waller County Sheriff's Office
Officers from a Houston-area police department will be pulling drivers over for the next few days, even if they did nothing wrong. But they won't be giving out traffic tickets. Instead, in an attempt to spread some holiday cheer, the Waller County Sheriff's Office announced Monday that sheriff's deputies will be handing out gift cards during traffic stops until Sunday. 
"If you get stopped by one of our deputies between now and Christmas, it might not be a ticket you're getting," the police department wrote on Facebook. "Deputies will be handing out a limited number of gift cards daily as our way of thanking all of the wonderful citizens we serve for your continued support and appreciation. Merry Christmas!" The post, which included photos of drivers who have received a gift card, has garnered over 1,000 likes and 126 comments, many from Facebook users praising officers for trying to give back to the community. 
"What a great way to spread cheer and remind the citizens that our police are here to help. Great work sheriff!" commented one Facebook user. "Well this is just amazing!" wrote another. Some joked that they would speed in order to increase their chances of getting stopped. "HOW FAST DO WE HAVE TO GO! Asking for a friend," read one such comment. 
Others were not so thrilled about the idea, some questioning the legality of the gesture and raising concerns about the safety of drivers and officers involved. "Pulling people over without a crime sounds like a 4th amendment violation I'd rather a settlement check than whatever these public servants are handing out," commented one user. "I thought being pulled over for no probable cause was illegal? The idea is great but…," wrote another. 
For some, the notice called to mind the case of Sandra Bland, one person writing: "That is messed up! #sandrabland #neverforget" Bland, a 28-year-old Black woman, was found hanged in her jail cell in Waller County on July 13, 2015, three days after being arrested by a Texas state trooper in Prairie View, Texas during a confrontational traffic stop after she failed to use a turn signal. Her death, which was officially ruled a suicide, drew international outrage over the treatment of Black people by police officers and was considered a turning point in the Black Lives Matter movement.
The Waller County Sheriff's Department has not publicly addressed these concerns. The police department did not immediately respond to a request for comment. 
= 768 && window._taboolaRRI === 1) || (w 0) && HDN.dataLayer.content.objectId && window.Article.isSensitive !== true && (Object.hasOwnProperty.call(HDN, 'activeABTest') && HDN.activeABTest === 'ENG9746')) { p = 'Right Rail Thumbnails'; m = '1×8-rr'; } } } } catch (e) {} var d = document.createElement('div'); d.id = c; var s = document.getElementById('taboola-right-rail-script-id'); s.parentNode.insertBefore(d, s); window._taboola = window._taboola || []; _taboola.push({ mode: 'thumbnails-' + m, container: c, placement: p, target_type: 'mix' }); } })(); ]]>