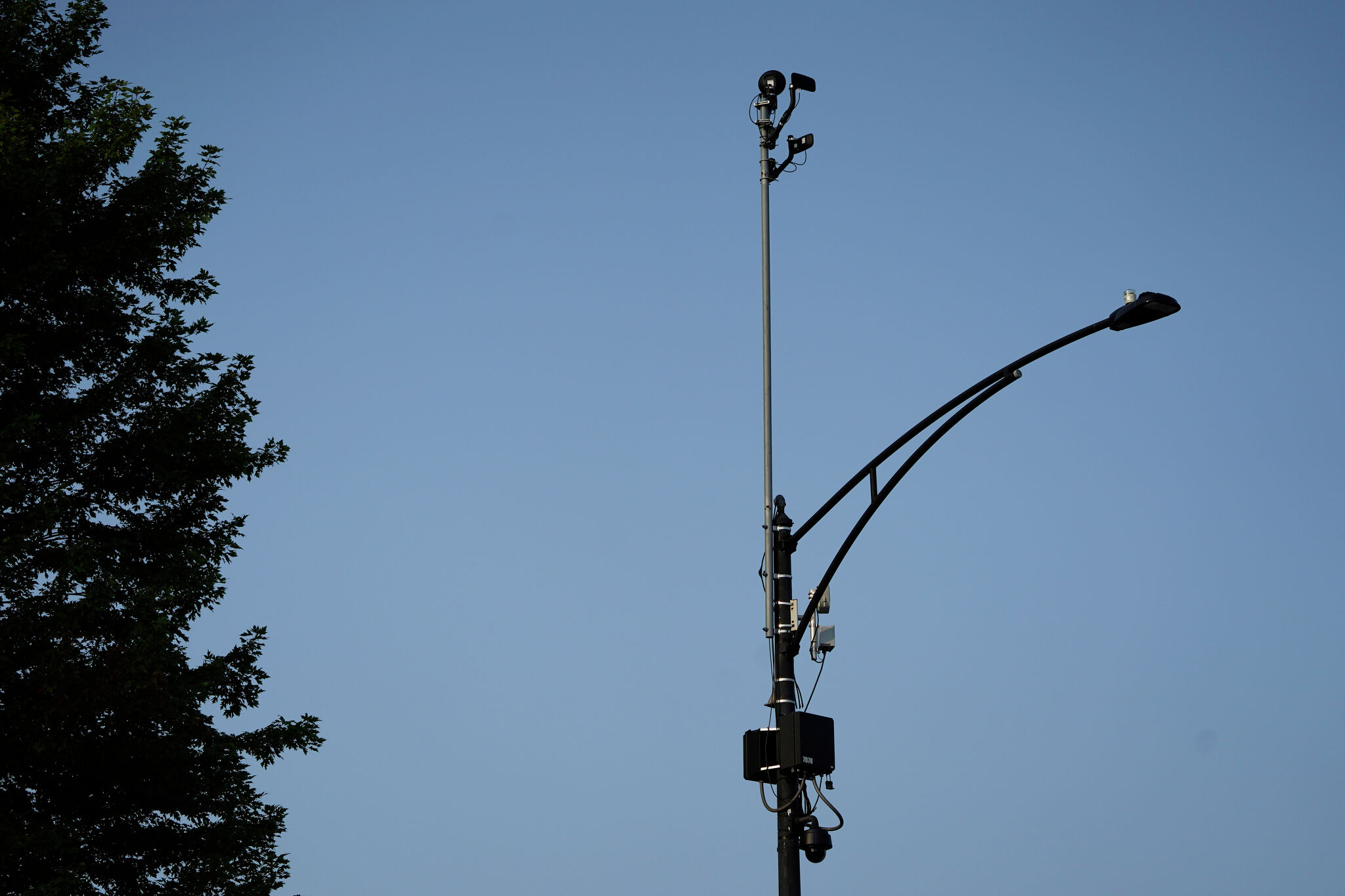 After a clerical error, Houston City Council members voted to alter the city's agreement with ShotSpotter Technology Inc., a gunshot detection technology company, to $3.5 million and pay a $700,000 past due bill in a Wednesday meeting on Jan. 31. 
Local officials said the initial contract was always supposed to be $3.5 million, but wasn't noticed by officials until the Houston Police Department tried to renew the contract in January and was notified of an overdue bill, according to city records on the ordinance. A ShotSpotter spokespoerson said the contract with Houston is five years and ends in December 2024.
City council members voted unanimous on January 31 to fill the accidental funding gap for the city's contract with ShotSpotter, a technology that whose efficacy remains a point of contention between law enforcement and community advocates.
What is ShotSpotter? 
ShotSpotter is a gunshot detection system featuring sound-capturing sensors. The technology is used by police officers in more than 100 cities across the United States to alert police officers to an area for a rapid response, according to the ShotSpotter website. "These sensors listen for loud, impulsive sounds – pops, booms, and bangs – that may be gunfire," a ShotSpotter spokesperson said. "ShotSpotter typically deploys 15-25 sensors per square mile, although it can differ depending on the coverage area topography and building density." 
Who created ShotSpotter, and when? 
ShotSpotter was created in the late '90s by engineers Robert Calhoun,  Robert L. Showen, and Jason Dunham. According to the ShotSpotter website, over 140 cities are contracted with the company. 
How does it work? 
According to the same spokesperson, a computer algorithm filters out sounds that aren't gunshots, including fireworks and helicopters. Next, acoustic experts review the sounds, including playing back the recording and visually analyzing the audio to see if it's gunfire. Once the expert determines the sound, it's reported to the police or dismissed. 
At the same time, the company's detection system uses an "acoustic expert" to depict the different sounds; those same experts can override the algorithm, which could lead to a false positive alert.
Earlier this year, Associated Press Investigative Journalist Garance Burke reported that experts said the override system could bring subjectivity into increasingly consequential decisions. 
Is ShotSpotter effective in stopping crimes? 
The usefulness of ShotSpotter has become a matter of contention in cities where its sound-monitoring technology has been implemented. In 2017 the City of San Antonio terminated its contract with ShotSpotter citing high costs and limited program success. San Antonio officials said they linked four arrests to the technology alerts. San-Antonio Express reporter Vianna Davila said officials counted incidents where a ShotSpotter warning was issued, police arrived, and police had received no other notification of trouble.
A 2021 report published by the City of Chicago's Office of Inspector General stated the technology rarely led to arrests for gun-related crimes. 
"OIG concludes that CPD responses to ShotSpotter alert rarely produce evidence of a gun-related crime, rarely give rise to investigatory stops, and even less frequently lead to the recovery of gun crime-related evidence during an investigatory stop," the report states.
A study by MacArthur Justice Center also found that the technology sent Chicago Police Departments to thousands of dead-end deployments.
"The City of Chicago has deployed ShotSpotter only in the police districts with the highest proportion of Black and Latinx residents," the study states. "On an average day, there are more than 61 ShotSpotter-initiated police deployments that turn up no evidence of any crime, let alone gun crime."
Last week, Houston City Council member Abbie Kamin said she had requested updates from HPD on the effectiveness of ShotSpotter and a review of the technology by Chief Finner. She added that Finner is presenting the data at a City Public Safety and Homeland Security meeting set for Feb. 16. That review will likely cover the technology's performance since its initial installation in sectors of the city three year ago. 
In 2020, the City of Houston  a ShotSpotter pilot program that placed devices covering a five-square-mile region of Houston's southside neighborhood, including Sunnyside and Old Spanish Trail. According to HPD ShotSpotter data presented in 2021, the pilot program's sensors recorded 2,330 confirmed incidents of gunfire from December 2020 to September 2021. Of those more than 2,000 confirmed incidents, only 54 arrests and 60 charges were brought against a defendant.
How do community members feel about it?  
Criminal justice advocates say Houstonians in neighborhoods monitored by ShotSpotter have mixed feelings about the technology. 
"Some folks are excited about the possibility the 911 response times will actually get faster because those are communities where they have said there's very little support when something does go wrong," Katya Abazajian, Houston Abolitionist Collective organizer, said. Houston Abolitionist Collective is a group of organizers committed to building power and a movement around prison abolition in Houston and Harris County.
"That is a real issue. But what the City Council is doing is basically saying, 'Great. The answer to that is more police.' And that's not necessarily the answer everyone agrees on." 
Since the implementation of ShotSpotter two years ago, Abazajian and other community organizers say HPD and the City of Houston are promoting technology as the solution to public safety issues instead of addressing delayed police response times. 
Overall, out of the City's $5.7 billion budget, $1.02 billion goes to funding the Houston Police Department, according to a Houston Chronicle City Budget breakdown. 
ImagiNoir and Black Lives Matter HTX Collective organizer Jaison Oliver said technology like ShotSpotter is surveillance presented as a way to improve public safety. Instead, he said the money for the technology could be used to fund city departments. 
"You're putting microphones in the community, you're telling people they are gunshot detectors, but they are microphones, and it's giving a justification for increased police presence in these areas," Oliver said. 
"It's frustrating for someone that pays attention to the budget to see so many issues and needs where $700,000 can really go far; we're facing years of underinvestment in a lot of our core services," he added.
HPD officials declined requests for comment on the ShotSpotter program.