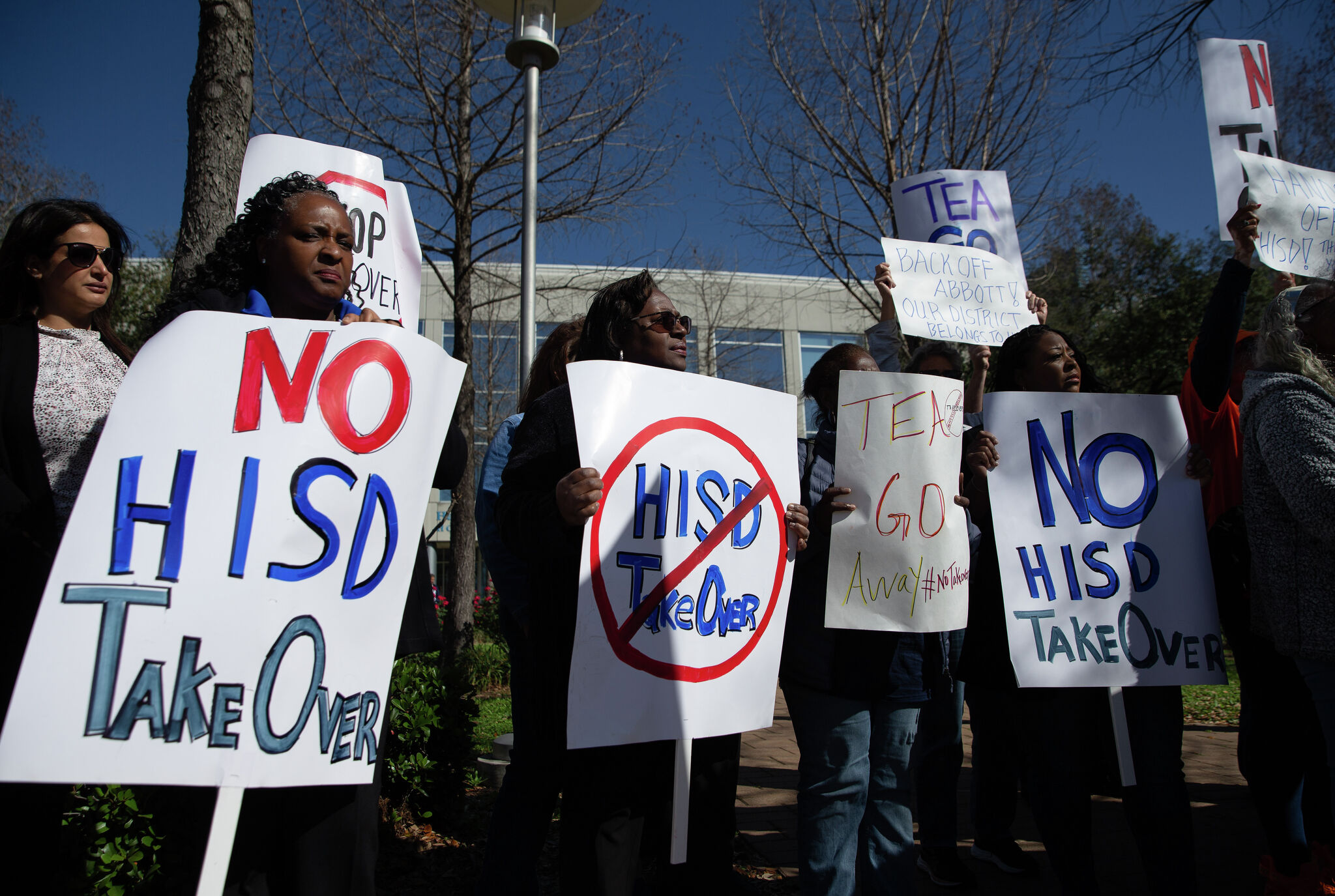 Local organizations are asking community members to protest the Texas Education Agency's looming takeover of the Houston Independent School District this Saturday, March 11, at 3 p.m. at Wheatley High School. The rally will be located on the high school's campus at 4801 Providence St. 
"Calling all parents, students, teachers, concerned citizens … march with elected officials, faith leaders, community leaders, labor unions and more," the flyer states. "We will hear from our students, PTO parents, teachers, and Wheatley alumnus."
Twitter

— CarrollGRobins1 Twitter
The NAACP Houston Branch is organizing the protest in collaboration with a slew of other groups, including the American Civil Liberties Union, Houston Urban League, the Greater Houston Coalition, Community Voices for Public Education, the Houston Federation of Teachers, the League of United Latin American Citizens, FIEL Houston and more. 
The protest comes as students, parents and the greater Houston community sit in limbo until TEA decides what comes next. In a press conference with local officials last week, Houston Mayor Sylvester Turner said he was given the option by Education Commissioner Mike Morath to either close Wheatley HS or have the state agency takeover the district altogether. 
After consecutive underperformance ratings, Wheatley HS is the school campus that triggered the 2019 lawsuit from the state. Since the lawsuit was filed, Wheatley is now tagged as a C-rated school, according to state records. 
Earlier this year, after the Texas Supreme Court lifted a temporary injunction, clearing the pathway for the state agency to intervene in the district, state lawmakers, HISD students, parents and community members rallied in opposition to the protest in front of the Hattie Mae Educational Center. 
"This is not the first time Gov. Abbott and conservatives wanted to take over Black and Brown schools," Charlene Horton, a Wheatley alumnus, said at the February protest. "Our youth education and their schools shouldn't easily be bought or sold out. You all sit in those seats because of us, so will you give your seats when the policies that you are trying to enforce don't succeed, or will you look for reasons to continue to punish Wheatley and all the HISD schools?" 
The NAACP Houston Branch did not respond to requests for comment on Thursday morning.