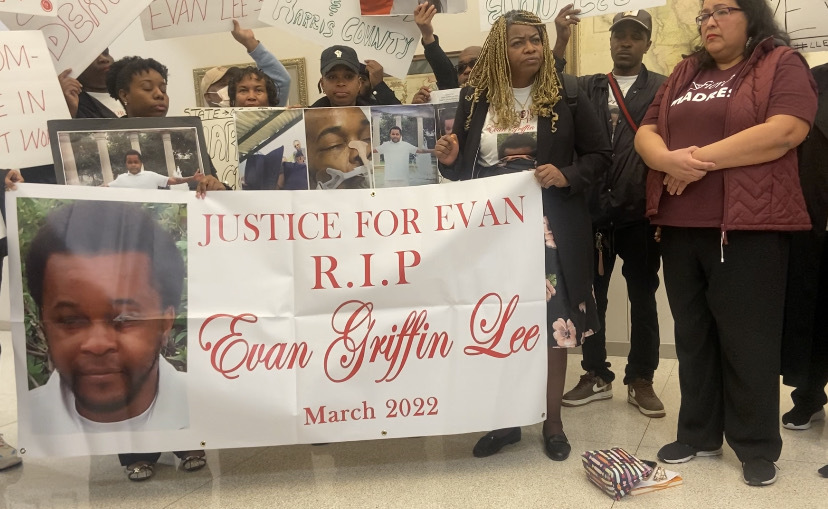 "323 days, I don't know what happened to my son," Jacilet Griffin-Lee told members of Texas' jail oversight agency during a meeting in Austin Wednesday. "Nightly, my ears are ringing. My son's last conversation: 'mama, get me out of here! I'm gonna die in here!'"  
Griffin-Lee's son Evan Lee was booked at Harris County Jail in December 2021, found unresponsive in his cell on Mar. 18, 2022 and declared dead four days later. His death was one of 28 detainee deaths inside the jail last year—its deadliest year in at least a decade. Like many who've died inside the jail, Lee was a pre-trial detainee; he had been charged but not convicted of a crime and was legally innocent at time of his death.
Griffin-Lee was among a group of families and friends of Harris County Jail victims that pressed the Texas Commission on Jail Standards for answers during the agency's quarterly meeting in Austin on Wednesday. 
"What can this commission do? What do you plan to do to help the conspiracy in the Harris County Jail?" Griffin-Lee asked the Commission. "I urge this commission to work with the Harris County Sheriff's Office and their stakeholders, who are detaining our community people pretrial in a deadly jail, to divert and depopulate bondable people and prevent more deaths," she added.    
Krishnaveni Gundu, co-founder and executive director of Texas Jail Project, pointed to pre-trial detention and cash bail as a key driver of in-custody deaths in Harris County.
"All the deaths that took place last year were pre-trial," said Krishnaveni Gundu said Wednesday. "Completely preventable, unnecessary deaths. So staffing is not going to solve this problem. We need to stop arresting people and putting them in cages pre-trial on a cash-based, wealth-based detention system."
Brandon Wood, the Commission's executive director, met privately with the coalition of family members to discuss their concerns further after Wednesday's meeting ended. 
The families' testimony before the Commission comes following a deadly start to 2023 inside Harris County Jail: four people died inside the jail in January alone, according to the Houston Chronicle's John Wayne Ferguson.