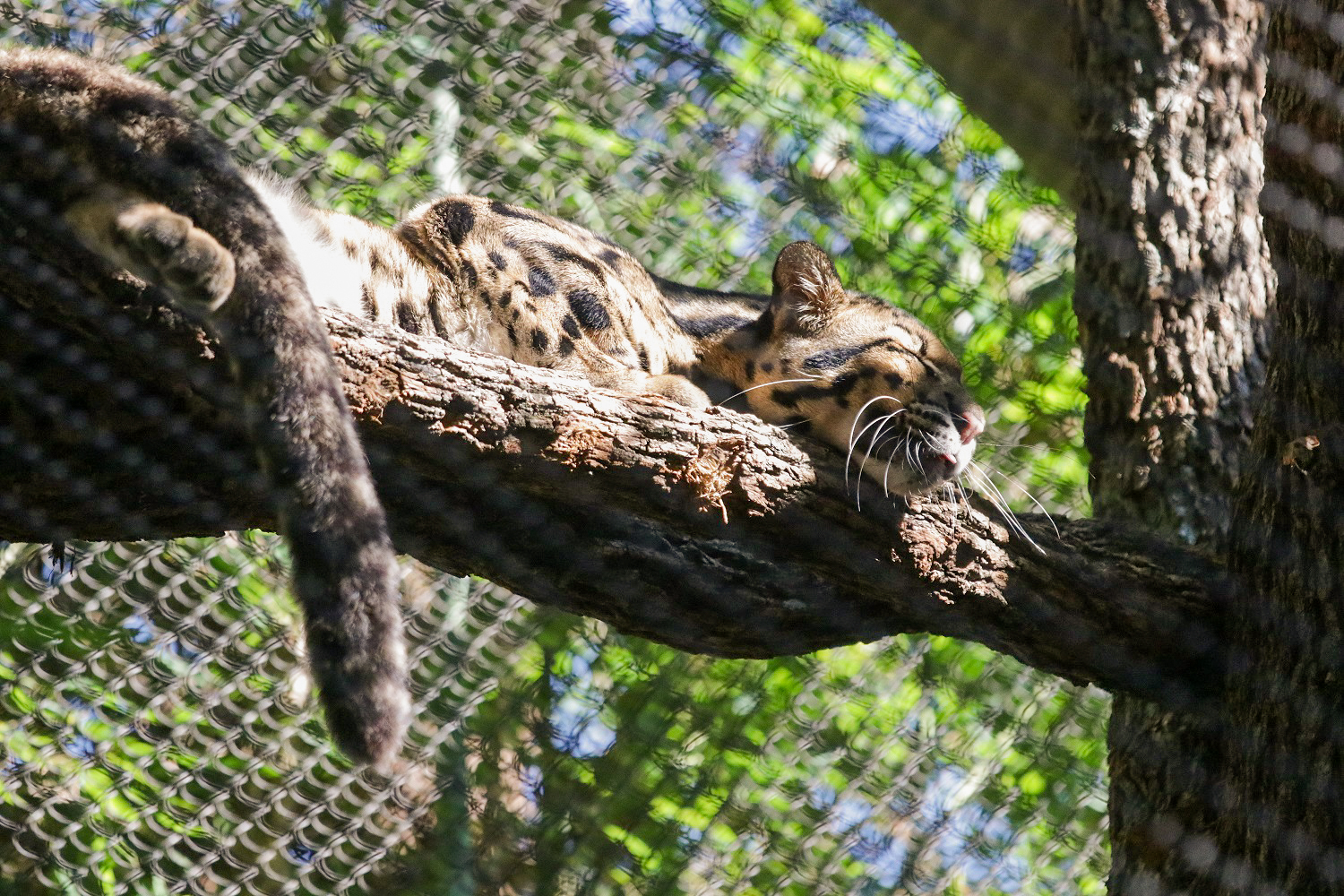 Updated Jan. 15, 11 a.m. CT 
After four-year-old clouded leopard Nova escaped her enclosure at the Dallas Zoo on Friday, police officials launched an investigation and determined the fence surrounding her habitat was intentionally cut. Nova was found and safely secured, but it was reported late Saturday that a similar cut fence was found at a second enclosure, which contains the zoo's langur monkeys.
According to an updated report by The Dallas Morning News, police are still investigating and cannot confirm whether the two incidents are related at the moment. The monkeys never left their habitat and "did not appear to be harmed or in any danger."
The Associated Press reports that police and zoo officials have reviewed surveillance footage but would not say whether they found any potential suspects. The Dallas Zoo provided an update on Nova Saturday, tweeting that she has reunited with her sister Luna and "has settled right back into her routine."
Twitter

— DallasZoo Twitter
Update 6:30 p.m. CT
Dallas Zoo officials announced late Friday that Nova, the clouded leopard who went missing from her habitat this morning, forcing the closing of the wildlife park, had been found and returned to her enclosure.
"We are thrilled to report we located clouded leopard Nova on-grounds at the Zoo this afternoon at approximated 4:40 p.m." confirmed a Tweet sent out Friday night. "She was located very near the original habitat, and teams were able to safely secure her just before 5:15 p.m.
"Initial indications are she is not injured. She is being evaluated by our veterinary staff right now. We'll provide further updates on her status tomorrow."
Twitter

— DallasZoo Twitter
— End of Update —
Update 5 p.m. CT
Dallas Zoo officials suspect that the disappearance of four-year-old clouded leopard Nova on Friday was intentional. In an interview with the Dallas Morning News, the zoo's president Greg Hudson said that staff noticed the 25-pound adult clouded leopard was missing after they found a "suspicious opening" Friday morning inside the enclosure the wild feline shares with her sister, Luna. 
"It was clear that this opening was not a habitat failure, it was not an exhibit failure and it wasn't keeper error," Hudson said. Nova was still missing hours after the zoo announced on Facebook that it closed and issued a "code blue," an alert meaning a non-dangerous animal isn't in its enclosure. Sgt. Warren Mitchell, a spokesman for the Dallas Police Department, confirmed police have since opened a criminal investigation. "It is our belief that this was an intentional act," Mitchell told the Dallas Morning News. 
— End of Update —
3:30 p.m. CT
Four hours after the Dallas Zoo announced it would close due to a clouded leopard going missing, officials are still working on locating the elusive feline. In an update posted to Facebook regarding the search, officials provided more details about the 25-pound adult clouded leopard named Nova as well as a photo. 
"It's habitat is a dense forest, and it is designed for life in treetops," the post "It is bigger than a house cat and smaller than most bobcats. If you think you see the animals, please do not approach the animal." Zoo officials are also asking people who come across the exotic cat to send photos and message the Dallas Zoo on social media. 
Officials also wrote that the animal does not pose a serious threat to smaller creatures in the area. "To set some minds at ease, if she has made her way off-grounds, this animal isn't a greater risk for pets than animals native to North Texas that roam our dangerous surrounding neighborhoods, but if you feel more comfortable bringing pets inside, please do," the post read. 
The Dallas Zoo said it will provide another update in the evening on Friday. 
Earlier
The Dallas Zoo was forced to close Friday after crews tried to find a missing clouded leopard named Nova. In a statement posted on Facebook around 10:15 a.m., staff announced that the zoo was closed "due to a serious situation." They later announced they issued a "code blue," in regards to a "non-dangerous animal that is out of its habitat." 
"One of our clouded leopards was not in its habitat when the team arrived this morning and is unaccounted for at this time," the zoo wrote. "Given the nature of these animals, we believe the animal is still on grounds and hiding." Officers from the Dallas Police Department are also on site to help the zoo with the search efforts, they added. "The zoo is closed today as our teams work to find and recover the animal." 
Multiple police units were reported on the scene, including officers with a drone, per a report from WFAA in Dallas. Additional information about the search has not yet been released. "We will share updates and more information as soon as we can," zoo officials wrote on Facebook. "Our focus right now is on locating the animal." 
Clouded leopards, which are native to Southeast Asia, can weigh up to 50 pounds, according to the Smithsonian's National Zoo & Conservation Biology Institute. "However, they are neither a true great cat nor a true small cat, because they cannot roar or purr," the Smithsonian website said. "Poaching and habitat loss threaten this vulnerable species." Last year, the Dallas Zoo posted a video about Nova and her sister Luna. The leopard duo both came to the zoo in 2021 from the Houston Zoo where they were born.